About Angie Gunsauls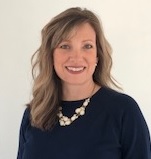 Angie has been married to her husband Keith since 1997 and is the mother of young adult triplets. Over the past 15 years, her family has been involved in a variety of church ministries, including nursing home outreach. With a background in Ornamental Horticulture, Angie loves to visit gardens and work with plants, spending most of her free time outdoors enjoying the natural beauty of East Tennessee.

Angie understands that trust is the foundation of any relationship, be it personal or professional. Specializing in Medicare and Life Insurance, she will always prioritize your best interests while helping you meet your insurance needs as cost-effectively as possible.